My passion is to help businesses grow.
I do this using a number of marketing strategies including buyer journey mapping, funnel tracking and marketing analytics, positioning strategy and product design, and improving the customer experience.
I have over 20 years experience in business marketing having worked in a variety of roles such as product design and development, product management, sales communications, branding, and marketing. I've worked with large multinational companies in the wholesale supply of technology infrastructure (B2B), and I've worked with small businesses where technology serves the end-user (B2C).
Although primarily a commercial manager, I have a deep background technology. Ever since acquiring the Atari game console in the early 80's, I have been a keen participant in each new technology wave. From the micro-computer and desktop publishing, to the internet and the world wide web, to cloud computing and web apps. I am particularly motivated by innovative use of technology to achieve high impact results to businesses.
I also have an interest in Human Behaviour. It is my belief that by understanding the psychology of the individual, that we can better identify unmet needs and create the right experiences for our clients. I believe it is through behavioural insights that I have brought my best ideas to clients.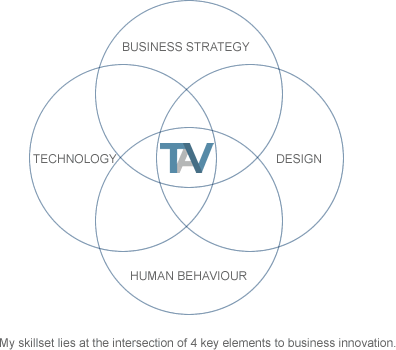 I have been involved with the launch and growth of brands across many industries including retail, professional services, telecoms, and high-technology, and education.

Contact me if you require any help or advice with growing your business.

Continue to What I Do Professional History